Have questions regarding COBRA administration? Our COBRA webinars make COBRA training easy! Make time in your schedule and don't miss out on these insightful tips to keep you current with COBRA administration compliance.
Sign up for the following FREE webinars on February 10. Attend one or attend them all, and tell your friends!

COBRA WEBINAR: COBRA Premiums and Collections
Gain important information about collecting COBRA premiums.
Timing and methods of payment
Payments and remittance
Invalid payments
Date/Time: Friday, February 10, 10:30 AM – 11:10 AM CST
COBRA WEBINAR: Termination of COBRA
Learn how to terminate COBRA coverage
Causes of COBRA termination
Notifications of early termination
How to send early termination notice
Date/Time: Friday, February 10, 11:30 AM – 12:10 PM CST
COBRA WEBINAR: Communication with Insurance Carriers
Discover how to effectively communicate with insurance carriers
New hires
COBRA qualifying events notification
Election and ongoing participation
Date/Time: Friday, February 10, 1:30 PM – 2:10 PM CST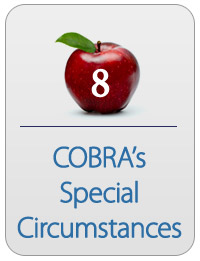 COBRA WEBINAR: COBRA's Special Circumstances
Medicare entitlements and COBRA
Social Security Disability and COBRA
Basics of USERRA, HCTC, ARRA and open enrollment
Date/Time: Friday, February 10, 2:30 PM – 3:10 PM CST
Don't miss out on this free COBRA training. If Friday doesn't work well for you, watch our COBRASchool page for upcoming dates, times and courses. Our free COBRA webinars keep you on the cutting edge with the latest information about COBRA administration.