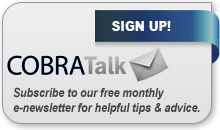 This week, our blog article is provided by our friend Jason Cogdill at ProBenefits.
IRS Notices Released This Week Address Individual Mandate & Subsidy Details
On Wednesday, the IRS released two important notices clarifying individual rights and responsibilities in 2014. Both are short, and I recommend reading when you have an opportunity (each is linked in this section). In Notice 2013-42, the IRS provides transition relief from the individual mandate for employees eligible for a group plan that operates on a non-calendar plan year. Prior to this transition relief, an employee in a non-calendar plan that waived coverage at 2013 enrollment could be subject to an individual tax penalty for not having minimum essential coverage during the period between 1/1/14 and the employer's 2014 renewal. With this ruling, the individual will not be penalized for the lack of coverage prior to employer's 2014 renewal. In the Notice, the IRS cites as its rationale the qualified transition relief available to employers offering non-calendar year plans as well as the ability of an employer to permit election changes during the exchange open enrollment period. Examples are listed in the notice.
Read More
Tags: cobra administration, cobra blog, health care reform, cobraguard