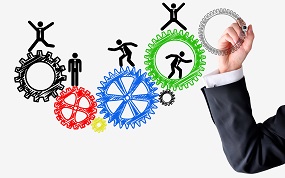 Some say the recession is finally over. We'll leave it to the economists to make the final call, but one thing we know for sure is that voluntary benefits continue to gain popularity – with employers and employees alike.
It's easy to see why. For employers, offering voluntary benefits helps them attract and retain the best talent, keep their workers healthy, and better manage their healthcare costs. And employees love the flexibility of customizing their benefits packages to meet their individual needs and lifestyle.
Human capital management is evolving.
As the economy continues to improve and the Affordable Care Act continues to unfold, employers are taking a hard look at the role their benefit programs play in the bigger picture of managing their number one asset – their human capital. And they're increasingly coming to realize that attracting, engaging, and retaining quality talent is about the total employee experience, not just healthcare benefits.
That's partly what's driving the growing interest in voluntary benefits. And it's not just traditional voluntary benefits such as short-term disability, cancer, critical illness, prescription, dental, life, and hospital supplemental that are being put on the table.
For a long time, wellness has been the Holy Grail of payoffs for offering healthcare benefits. But the focus is increasingly shifting to how employers can support their employees' overall well-being, with health being just one part of the equation. That means offering more lifestyle, financial planning, and other benefit options – things that can contribute significantly to employees' overall well-being. Some of the non-traditional voluntary products now available include:
Discount health programs
Vacation programs
Identify theft
Pet insurance
Legal services
Employee purchase programs via payroll deductions
Home and auto insurance
If you've never thought about offering a voluntary plan for your employees, now may be a good time to check them out. They can help attract a retain talent; bolster benefit packages; and facilitate increased peace of mind by giving employees access to life, disability and other benefits.
Don't forget COBRA!
As a rule of thumb, COBRA applies to most healthcare-related group voluntary plans. Under certain circumstances, even voluntary individual insurance policy arrangements offered via an employer may be subject to COBRA. You should contact your carrier and plan advisors to determine if COBRA applies to your voluntary benefits. When you offer a voluntary plan that is subject to COBRA, you'll need to alert your COBRA administrator of all the plan details, and of any plan participants, so that the proper notifications can be sent.
Plans not subject to COBRA because they are not considered "group health plans" include employer-paid or voluntary life insurance, disability insurance, long-term care insurance, and legal assistance programs.
For more information and the latest updates on COBRA and PPACA, subscribe to the COBRAGuard blog in the upper right hand corner of this page.