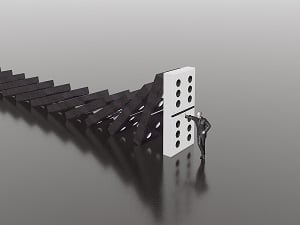 Since the onset of the Affordable Care Act (ACA) in 2014, employees who have lost health coverage due to a qualifying event have had the option of continuing their coverage by electing COBRA or by choosing their own health insurance plan through the Marketplace. Back then, some predicted that the ACA would make COBRA obsolete. Now, almost five years later, COBRA stands strong.
COBRA vs. Marketplace Plans: Which is the Best Choice?
To answer that question, we're diving into the 2018 Kaiser Family Foundation (KFF) Employer Health Benefits Annual Survey, published in October 2108 as well as a November 2017 Marketplace Analysis by Avalere.
Employer-Based Coverage
According to the KFF Survey, annual premiums for employer-sponsored single health coverage reached $6,896 this year, with workers contributing an average of $1,186 ($98.83/month) toward the cost of their single coverage and employers covering the remaining $5,711 (roughly 83% of the cost). The average deductible among covered workers in a plan with a general annual deductible is $1,573 for single coverage.
Some would call employee-paid coverage a subsidy, but that term is misleading. It's more helpful to call it an employee-paid benefit in lieu of payroll. In other words, employees would probably receive at least that amount in additional pay to afford them the opportunity to purchase coverage elsewhere if they chose not to provide it. Many firms present this in terms of the "hidden paycheck" each year to demonstrate the value of the benefit package for their associates.
Marketplace Coverage
While Marketplace plan prices vary by state, KFF shows the Marketplace Average Benchmark premium for 2018 at $481 per month or $5,772 annually. While this is comparable (and even slightly lower than) employer-based coverage rates, the deductibles are much higher than employer-based coverage averages.
In fact, the Avalere analysis revealed that deductibles for silver plans were $3,937 on average for 2018. By shopping online, we found that some deductibles can be as high as $6,000 to $8,000. While higher deductibles help keep premium costs down, they tend to increase the total out-of-pocket cost of care. Plus, plans offered in the Marketplace typically have narrower networks and thinner benefit levels.
The subsidy level for the unemployed is still a factor, but as of the date of this article, none of our lawmakers have applied the subsidy to the deductibles in the Marketplace. There are not many unemployed individuals who can afford a $3,937 average deductible.
The COBRA Implication
The COBRA continuation rate is the employer-based rate plus the 2% charge allowed to recoup some of the expenses associated with COBRA administration. So, in the "average" case, a worker could elect COBRA for $7,033.92 (average cost of $6,896 plus 2%) while maintaining an average employer-paid deductible of $1,573. Comparatively, an "average" Marketplace plan might cost less up front ($5,772) but due to the high deductible, the plan's out-of-pocket costs would be much higher.
Give COBRA the Positive Press it Deserves!
Many health insurance professionals shy away from talking about COBRA continuation coverage, the COBRA regulations, and employers' obligations under COBRA. Trust me, I get it. If you are at a Christmas party and you want someone to leave you alone, try telling them that you do COBRA for a living and watch what happens next!
Be different this year. Tell them that COBRA plans are awesome and beat the pants off most Marketplace plans. That will surprise them!
Looking Forward
The ACA was supposed to make coverage more affordable, easier to obtain and COBRA unnecessary. However, for many, the ACA caused business to become more complicated, costlier and frankly less profitable.
In 2019, we will have a new congress and some things may change. If lawmakers really want to fix the ACA, there might be a different outcome. At the moment, it seems clear that those who lose employee-based coverage may be best served by COBRA continuation coverage.
This article was reprinted from the November 2018 issue of America's Benefit Specialist Magazine featuring our very own Robert Meyers.