Every year during open enrollment a few unsuspecting companies make a big HR mistake: They unwittingly allow their COBRA administration program to change along with their benefits plans. Sometimes it's because the carrier recommends a different COBRA administrator. Sometimes it's because a broker is offering free COBRA software. And sometimes, the broker and the HR team aren't even conscious that the change is occurring because the COBRA administration was a free service provided by the old health insurance carrier.
This is problematic because while COBRA administration seems like a small, easy decision during the open enrollment season, it quickly grows into a large, complex problem to solve at the start of the year – especially if you don't have a plan!
If free COBRA software or administration is available, why not take it?
For one thing, just because it says free doesn't make it an easy process. Changing from one COBRA administration to another is similar to changing doctors. Every time you go to a new doctor, you must fill out the paperwork again, make sure the insurance is accepted, and reiterate your whole medical history while possibly losing significant medical notes along the way. It's a hassle that is not worth going through, especially when you find a doctor you trust.
It's the same with COBRA. Everything that is put into the first COBRA system – the participants, the applicable plans and all other related data must be entered into the subsequent system. Re-entering the information increases the chance of losing essential client information, which becomes pertinent if your client enters into a COBRA dispute.
But it's free! Won't it save the company a lot of money?
There is no such thing as a free lunch. The money you save on free COBRA software or COBRA administration can quickly be erased by the HR labor needed to babysit a less than stellar situation. Make sure you know all the details:
Is it just free for a three-month trial? Will it be free next year?
Will the set-up for the new COBRA system be provided free?
Will the new COBRA administration system transfer and store past employee data?
Will an employee's notice history be accessible in the event of a dispute?
Does the new COBRA software include all the features of your current system such as free data storage and secure COBRA premium collection?
What should you do about COBRA when your health plans change?
First, you need to understand the details of your current COBRA administration program or COBRA software. Can you carry it forward to your new health insurance plans or was a value-added service offered by your old carrier? If you can take carry the COBRA administration software/plan forward, take a moment to assess the quality of your program. Do you trust your COBRA administrator? Do they have a reliable track record or timely communication and solid record keeping? Do you and your COBRA participants receive exceptional service? Weigh the pros and cons and give the issue some serious thought. Our free report, "Is it time to break up with your COBRA administrator?" can help you objectively think though the pros and cons.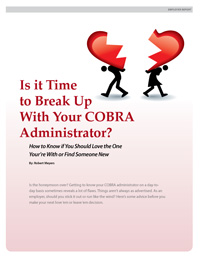 Final note
Knowing the consequences of switching COBRA systems is critical. Like changing doctors or changing online banking, give COBRA administration changes the due diligence they deserve.